Code in force: 1 August 2022
We will need to be satisfied that a CDC scheme meets all the authorisation criteria for it to be authorised and able to operateAT1.
The six authorisation criteria are broadly as followsAT2:
A. Fitness and propriety
In this criterion, we are required to assess the person who establishes the scheme and the trustees as well as those who are able to appoint or remove the trustees or amend the trust deed or scheme rules. All individuals being assessed must be able to satisfy us that they are fit and proper because they meet the standards of honesty, integrity and knowledge appropriate to their role. In addition, we will also assess trustees' competence and conduct.
B. Systems and processes
The scheme must have sufficient IT systems in place to run efficiently and have robust governance processes to manage the scheme effectively and comply with all relevant requirements.
C. Member communications
The scheme must have adequate systems and processes to communicate with members so they understand the risks and benefits of the scheme, in particular how the rate or amount of benefits may change.
D. Continuity strategy
Sufficient contingency planning is crucial to the effective running of a scheme and there must be a credible strategy for how members will be protected if there is a triggering event.
E. Financial sustainability
A scheme must have sufficient financial resources to operate at set-up and thereafter following a triggering event without increasing the cost to members.
F. Sound scheme design
A scheme must have a sound scheme design. This should be demonstrated in the viability report supported by evidence including appropriate advice from suitably qualified professionals and modelling and testing appropriate to a scheme's complexity.
Interconnectivity between criteria
There are strong links between all the authorisation criteria, and none can be assessed in isolation. For example, we could not approve the fitness and propriety criterion if we were not confident that trustees were competent to assess the scheme actuary's analysis of whether the scheme's design is sound, and capable of judging whether it is being communicated appropriately to members.
Figure 1 below summarises the authorisation criteria and the key interrelations between them. It shows that the authorisation framework is a web and not a linear journey, as a change or issue in one area could have a strong bearing on how we assess another criterion.
Figure 1: CDC authorisation criteria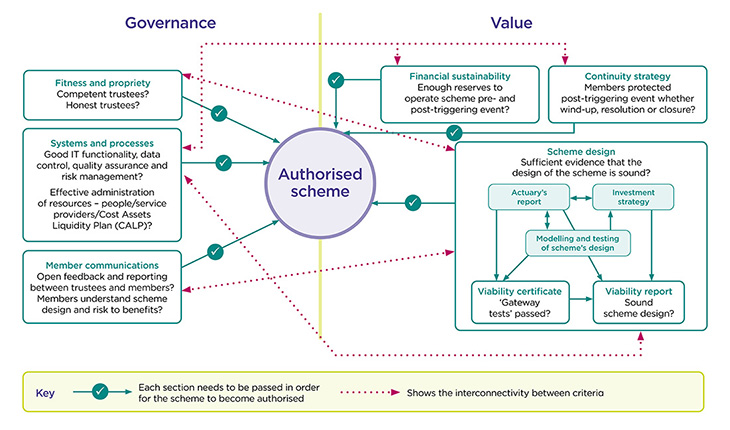 Legal references
AT1 Section 9(1) of the Act
AT2 Section 9(3) of the Act